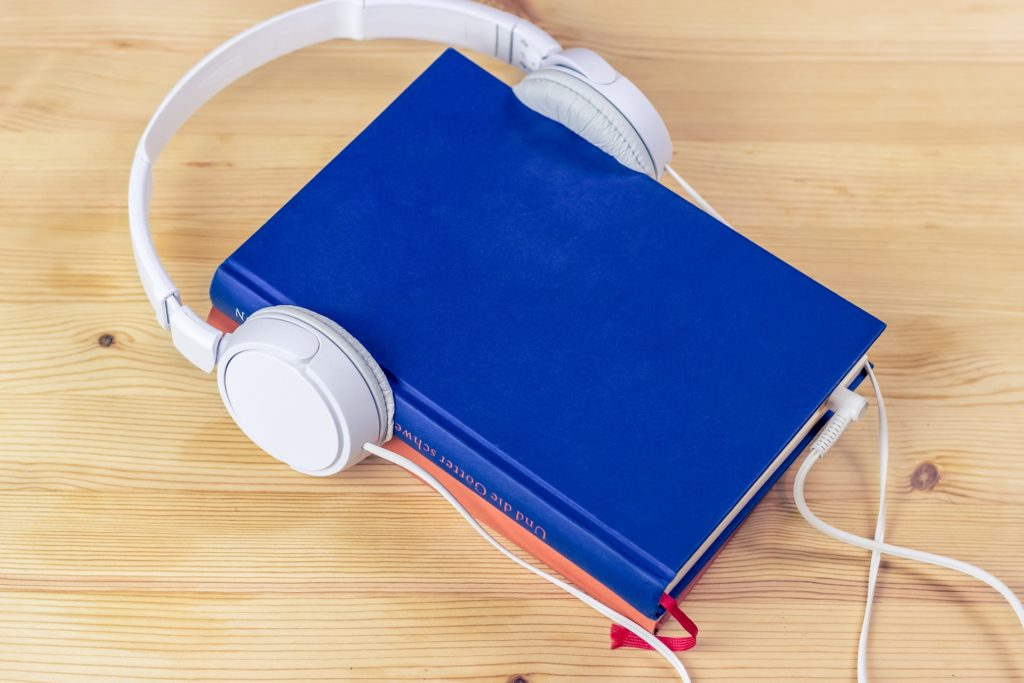 The standard advice that you'll find online these days when looking for an audiobook gift is to either:
Purchase an audiobook through Amazon.
Purchase an Audible audiobook membership.
These can be great gifts to give to the true audio bookworm, but both options also have their downsides. Let's look a little more closely.
Option 1: Purchase an audiobook through Amazon
Purchasing an audiobook through Amazon seems to be an easy option at first glance. Just head over to their ever so familiar marketplace, choose a title, click the buy now button and you're done. You might as well buy some socks while you're there. Oh and maybe a new phone case too, why not?
But is it really that easy? First, remember that you need to know what kind of book that your gift recipient would actually want to listen to. It would be a shame to get them a book on a topic or in a genre that they have zero interest in, left unlistened to and collecting digital dust forever. Or maybe they love the topic but just can't stand the narrator's nasally voice.
Maybe you know exactly what kind of book that the recipient loves. Awesome! You get to Amazon and narrow your search, only to find page after page of options. And so begins another bout of indecision.
Suddenly this quick and easy option isn't seeming so quick or easy.
And let's not forget the fact that it's Amazon. I'm a professional audiobook narrator, and most Amazon purchases on books I've narrated pay me about 40% of the purchase price. Well, not really. I have to split that with the author… so 20%.
That's right, The narrator keeps 20%, the AUTHOR OF THE BOOK keeps 20%, and Amazon pockets the other 60%. I'll leave it at that.
Let's explore the second option.
Option 2: Purchase an Audible audiobook membership
Audible is a subscription based business that offers one "credit" per month which can be used to purchase any audiobook of the subscribers choice. Any additional book that they may want to hear before the next month's credit needs to be purchased separately.
So you get to pay monthly…. And then you get to pay even more! Cool!
Oh and one other fun fact about Audible. They're owned by… you guessed it: Amazon! And you'd better believe that they still take their 60% of the profits.
The good news is that I have a third, decidedly non-Amazon based option for you!
Option 3: A personalized audiobook created by us here at Made to Order Audio.
Besides being a more unique option than the other two, a personalized audiobook has all of the hallmarks of a great gift. It's thoughtful, unique, and completely one of a kind. And unlike with Audible or Amazon, if you choose us you can be assured that you'll be working with a real person and won't be treated as a transaction.
When you purchase one of our personalized audiobooks you'll receive an email with a link to a questionnaire. This questionnaire has a range of questions about the gift recipient's life, family, personality, likes, dislikes, and more. There are also sections in the questionnaire for you to share any funny stories or other unique input that you may have.
Once the questionnaire is completed it is sent to one of our script writers. On occasion our writer will need some more feedback to begin scripting the audiobook. In this case they will contact you by email within the next day.
At this point just sit back and relax! Our script writer will write the audiobook and send it off to one of our narrators, who will bring the story to life.
Once our narrator has finished recording, the audiobook is quality checked to assure that it's professional grade sound quality and free of errors. And now your personalized audiobook is finished! The whole process is completed within 7 days of our team receiving your questionnaire.
The finished audiobook will be 25-30 minutes long and divided into several chapters. We'll embed the audiobook on a custom page on our website where it can be played and provide you with the link. We'll also send you an mp3 file of your personalized audiobook so that you can download it and share it as you wish. We can also send it via email to the gift recipient if you wish.
If you'd like to gift a personalized audiobook to someone in your life you can get started today by visiting our services page and choosing the format that's right for you.